World Book Day 3 March 2022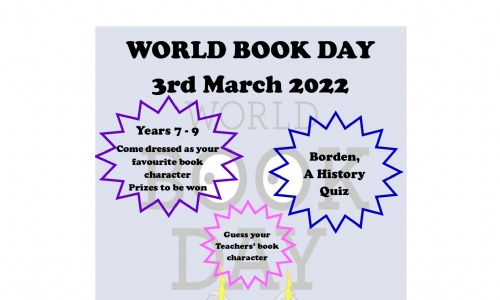 This year World Book Day and Harry Potter are both celebrating their 25th Birthday. On Tuesday 22nd February students will be given their WBD £1 book token, which can be used as part payment for a book at participating booksellers or be exchanged for one of the WBD books. On the voucher there are also details of a very special Harry Potter competition that students up to 18 can enter.
To celebrate World Book Day on Thursday 3rd March, we are arranging a number of activities throughout the day. In the past we have had teachers dressing up as their favourite book characters, but this year we would also like to open this up to our Year 7, 8 & 9 students (please note: school uniform must be worn if you are not taking part). Prizes will be awarded for Best Staff Book Character Costume, as voted for by students and there will be prizes for Student Book Character Costumes as well.
There will also be two competitions that the students can take part in during their breaks, "Guess the Teachers Book Character" and "Borden, A History" Quiz. Forms for these competitions can be collected from the library on the day.