Aim Higher
The first few weeks of the Aim Higher club, at the end of term 6, will offer some 11+ lessons in preparation ahead of the Kent test, and Borden test, in September. It is also our intention to provide some links to example questions, as well as some short videos of our students demonstrating particular skills and top tips that will help with 11+ practice.
In Term 1, when your son is in Year 6, there will be a range of our subject teachers offering a taster of their subject so students can experience a flavour of our school, aiming for them to want to put Borden as their first choice for their secondary school application.
You can apply for the Aim Higher club at our Open Evening on 8th June and Open Mornings. The Aim Higher club will be running on two evenings from 3:45 - 4:30, Wednesdays and Thursdays in term 6, and two evenings in term 1 of the next academic year, the days of which will be confirmed at a later date.
Mrs D Johnson
Aim Higher Co-ordinator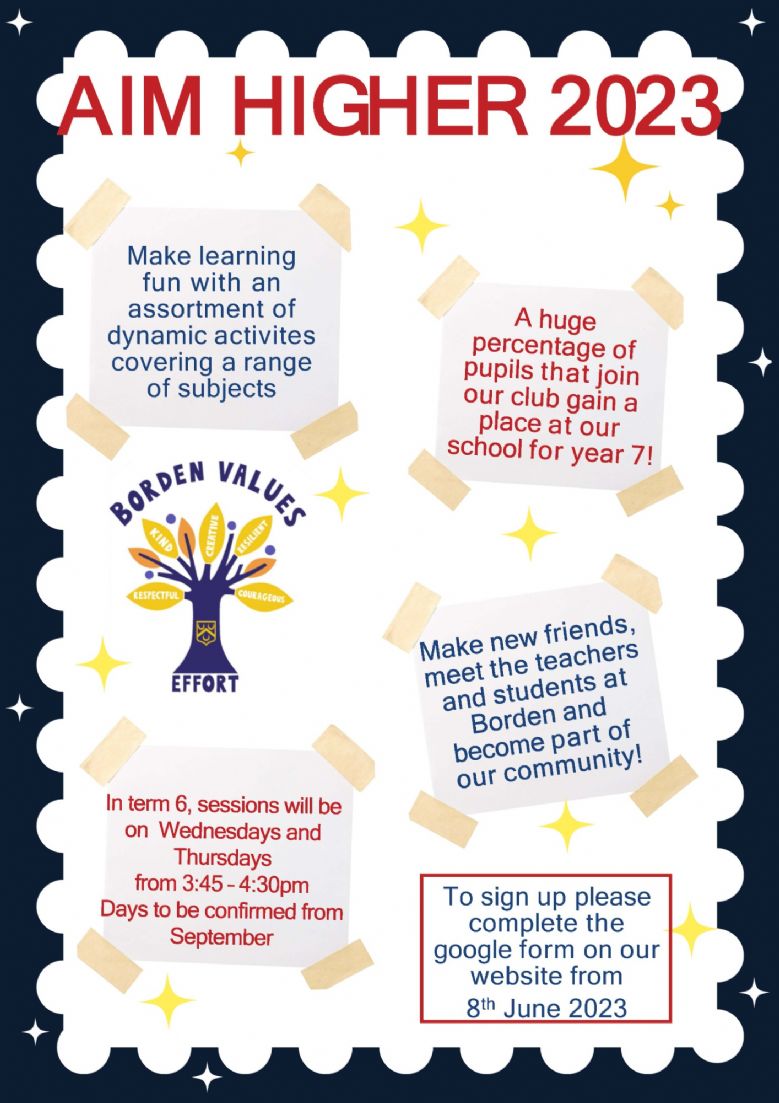 Please find below some useful links:
https://www.bond11plus.co.uk/free-resources-sample
https://www.bond11plus.co.uk/component/content/article/7-main/199-11-plus-free-test-papers
https://www.bond11plus.co.uk/images/material/bond%2011%20plus%20non%20verbal%20reasoning%20free%20test%20paper.pdf
https://examberrypapers.co.uk/resources/free-11-plus-practice-papers/bond-practice-papers-pdf-download/