School Prize Evening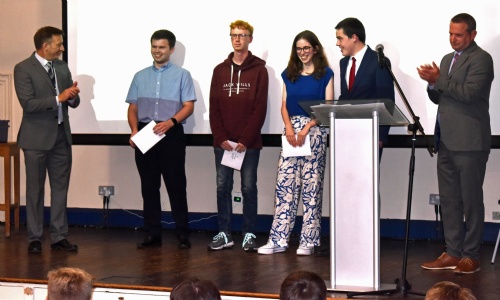 Borden Grammar School celebrated the success of its A Level and GCSE students with its traditional Prize Evening. Headteacher Ashley Tomlin paid tribute to the exam success of students. In his speech the Headteacher told the successful students "You should be very proud." In addition, he outlined future plans for the school expansion, with ground being broken this October.
Head of Key Stage 3, Michelle Brooker expressed her enormous privilege in being able to follow the students on their learning journey to GCSE success; many students have chosen to continue their studies in the Sixth Form at Borden Grammar School.
Head of Sixth Form, Chris Brinn, spoke warmly about how proud he was of the last year's Year 13. He highlighted in particular their role in the school community with initiatives such as peer mentoring.
The guest speaker was old Bordenian and tech entrepreneur Mark Bailey. He praised the school for maintaining its traditions, though he pointed out that the current School Captain Will Cotta, would probably not like the reintroduction of the ritual which involved throwing the school captain into Rodmersham village pond. Mark Bailey certainly provided a thoughtful end to his speech for the prize winners with the words "nothing I've ever done in my career existed when I was at school."
More photos from the evening will be available to view at our website gallery.