GCSE results to make us proud!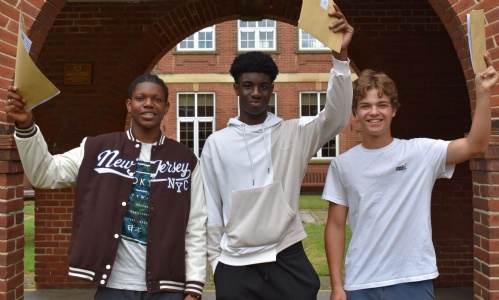 There is no doubt that, as a result of the pandemic, this cohort of students have had significant challenges in their journey to receiving these GCSE results. The Department for education and Ofqual has stated that grades this year will return to pre-pandemic grading and that national results will therefore be significantly lower than the last two years. Despite all these extra demands, we are very pleased to report many outstanding results from our year 11 students.
Overall our students should be proud of achieving some very impressive results, with 36% of their grades being at the highest level of grades 7 to 9 (A/A*/A**) with half of that number receiving grades 8 and 9. (A*/A**). A special mention should go to the 42 students who achieved 5 or more top grades and the 10 students who very impressively achieved 10 top grades or more. Only a very small percentage of grade 9s are awarded nationally each year and so a special mention should go to the students who achieved over half of their grades at the very highest level. Nicholas H, Patrick H and Ife F who achieved 7 grade 9s and Dominic O who achieved 5 grade 9s.
89% of students achieved 5 GCSEs at grade 5 or more (a 'strong pass') including both mathematics and English, which is a significant jump from previous examination years at Borden. Overall, 95% of all student outcomes were at grade 9 to 4 (A* to C). This represents excellent outcomes by a cohort of students who have displayed immense levels of determination and resilience during the course of their GCSE studies.
We are enormously proud of the achievements of all of our students under such challenging circumstances and wish them the very best of luck as they move on to pursue their future choices.