A Level Results 2023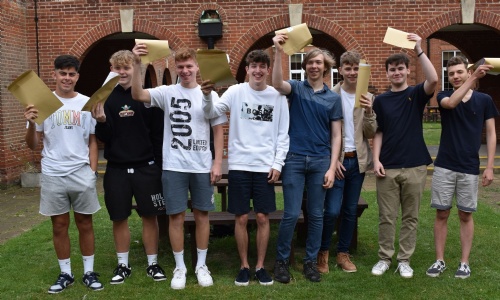 Following the cancellation of their GCSE exams in 2021, this summer was the cohorts first experience of formal external examinations. The Department for education and Ofqual has stated that grades would return to pre-pandemic grading and that national results will be lower than last summer. Despite these extra demands, we are really pleased to report some outstanding results by our Year 13 students.
There are 14 students who achieved at least three A grades across their three or four subjects, these students are Ruben B, Will C, Harrison D, Kristian D, Toby D, Lily D, Max E, Callum F, Tommy F, Kyle H, James H, James L, Beck M and Joshua V. Of these students the very top performers were Harrison D - A*A*A*, Kristian D - A*A*A, Toby D - A*A*A, Lily D A*A*AA, James H - A*A*A*A*, James L - A*A*A*A* and Beck M - A*A*AA.
Overall the students achieved really strong grades with 52% of all grades awarded at A*-B which represents excellent outcomes by a cohort of students who have displayed immense levels of determination and resilience during the course of their A level studies. These results allow the students to successfully move on to the next stage of their education or careers. Students have successfully secured places at top universities including Cambridge, Warwick, York, Bath, London School of Economics and Political Science University of London and Kent. Other students have secured apprenticeship and degree apprenticeship opportunities at local companies as well as blue chip companies in London.
We are very proud of the success of our students and wish all them the very best of luck as they move on from Borden.