Religious Studies the term!
Year 7 have been continuing to study Judaism, they've investigated the period of time known as 'The Judges', looked at the significance of David as well as designing their own 'Passover' meals. When students arrive back in January, they will be able to see some of the plates on display outside the RS rooms.
Year 7 also took a moment to focus on remembrance; memorialisation is effectively a religious process and they explored the origins of the tomb of the Unknown Warrior and reflected upon the meaning behind poppies.
Terence King (7SJH) drew a striking piece of artwork in his Religious Studies Book to commemorate Remembrance Day.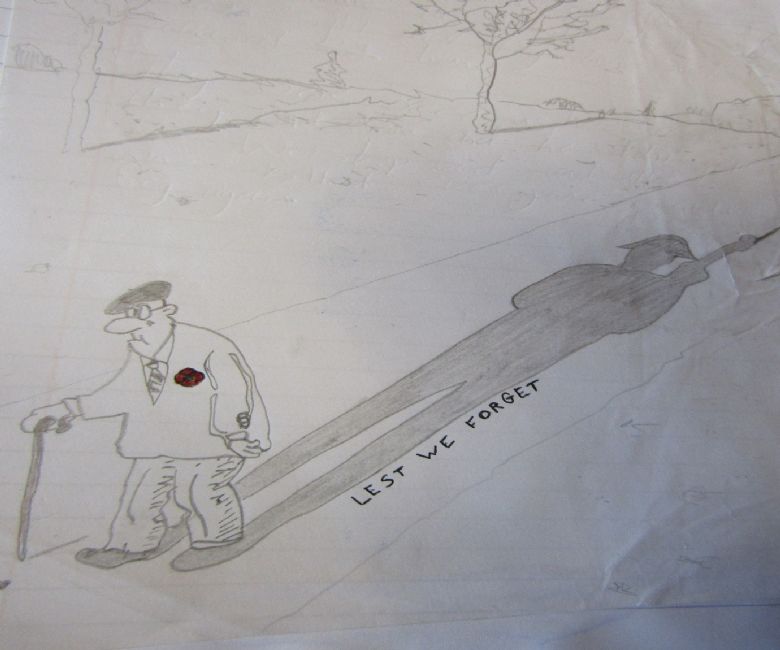 Year 8 have been exploring some huge topics in Hinduism; the caste system, the impact and role of Gandhi as well as rites of passage. All Year 8 students developed their IT skills further by creating a 'Google Sites' on Hindu Festivals. It was wonderful to see them creating these sites and deepening their knowledge of these ancient festivals
Well done to Year 9 on the completion of the Options Exams! They will of course receive the grades in next term. In the build up to the exam they studied the early years of Christianity and how it spread from a tiny faith to become the official religion of the Roman Empire.
Year 10 have been starting to exercise their written skills with practice GCSE questions, more have been promised in Term 3, so hopefully they will be ready in the New Year.
Congratulations to our Year 11 students on finishing their mocks! A great foundation for 2022 has been built. Of course, we wish all our students a relaxing holiday, but a special mention to them as they rest and recharge.
Mr Sherwood-Farnfield Lead teacher for Religious Studies
Psychology Department this term!
A big thank you to all of the Psychology students for their continued hard work and resilience this term. A special mention to the following students for their hard work and resilience in the most recent assessments. They all achieved top band results. Year 12: Jack Barling, Calista Wilson, Jacob Brookes, James Hogben and Alex Wilson. Year 13: Tom Fassenfelt, Billy Brown, Harry Ansley, Tiegan Purchase and Ted Vidyarthi.
Special thanks to Mrs Atkinson who joined the Psychology department this September. Mrs Atkinson has contributed so much to the department in the short time that she has been here.
Miss Morelli Head of Psychology