Dear Parent or Guardian,
We basked in the Spring sunshine last week at Borden and it was so nice to see the students back out on the field enjoying themselves. It's amazing how much a little sunshine means students and staff smile more and everyone feels like normality has returned. This is all the more important because Covid really hasn't gone away. We 'limped' through to the end of this term without having to make any adjustments, but only just. By the end of this term we had around 1 in 10 staff and students isolating as a result of Covid, reflecting a rise to over 1000 per 100,000 in Swale. This creates consistency issues for students who have lessons covered or who miss lessons themselves, all of which is unsettling. Added to this, students haven't experienced a full year in school, or formal examinations, for over two years. We will endeavour to keep things as 'normal' as possible at Borden, but once again I ask that you reinforce the need to be vigilant and thank you for your patience as we do our best to keep things going.
I would also like to say a huge thank you to the generosity of so many parents and students in response to the Ukraine refugee appeal. The hall stage has been jam-packed with donations and it was quite an effort shipping it all across to our local hub ready for transportation to Poland. We raised over £1000 from our Red nose /Red Cross non uniform day, as well as raising much more from our various other treasure hunts/raffles/competitions. This fits nicely with our Borden value of 'kindness' and is truly one of the real strengths of the school.
We also had a wonderful 'Old Bordenians' Saturday celebration this term, where many of our students from past years attended a dinner event at the school. I personally sat next to a gentleman who attended the school in 1941 and was enthralled to hear stories of how the Borden boys used to try and find out where the latest plane crash was locally so that they could make their way straight from school to gain souvenirs. At that time, most of the school was 'fee paying' with around a third gaining scholarships to the school. It certainly made me reflect on how proud I am to be the headteacher of a wonderful school with students who are here because they are able rather than just because they can afford to pay.
We also had some great sporting fixtures and successes this term. Many of these will be covered in this newsletter, but I wanted to briefly write about one I personally witnessed. Year 9 attended the local rugby tournament and had a clean sweep of victories against our local schools. However, whilst winning is always nice, what really stood out to me was the approach shown by our students. It was noticeable that all the students reflected our Borden values;
- showing true courage in their approach, making hard tackles when needed and - - supporting their team members when things got tough.
- showing respect to the other teams, applauding when they scored or at the end
- showing kindness when someone got hurt (often offering a helping hand to an opposing team member)
- showing resilience, particularly when falling behind - in the toughest match Borden came back to win from being behind at half time.
We obviously take very seriously our job of making sure that our young people work hard and achieve success in their examinations. However, I genuinely believe that it is more important to create young people who will make the world a better place than it is now. From what I witnessed above, we are in good hands.
Have a very happy and restful Easter and I look forward to seeing our community again in the summer term.


Kind regards
Ashley Tomlin
Headteacher
Some words from our School Captain
A warm welcome back to the school newsletter, I hope it finds you well. This term has been a positively active one for the Prefects. With the Ukraine crisis unfolding on the news, the Prefects and I took it upon ourselves (with permission of course) to try and offer our help to the appeal. In collaboration with the School Council, we have been able to run a school wide Easter egg raffle, with the proceeds of over £200 raised going to the Ukraine appeal.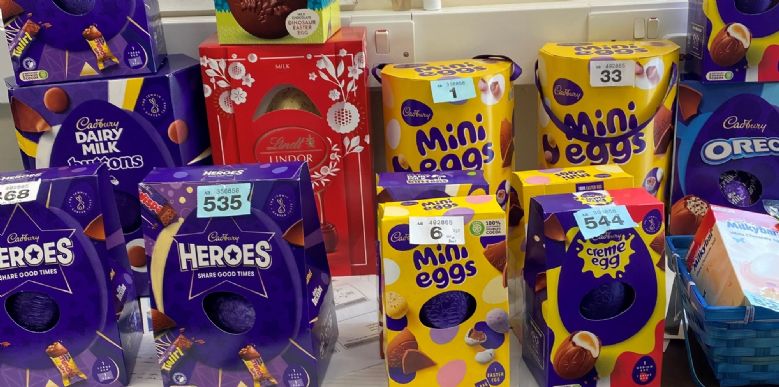 All those who sold tickets, bought a ticket or just helped with advertising it, thank you! The Prefect team is hoping to run some more fundraising events during this academic year, so keep an eye out for events taking place!
With Year 13 exams fast approaching, this may be my last entry to the newsletter. I hope my updates have kept you all well-informed as to what the Prefects have been up to. Whether that's new clubs or fundraising events, this year's Prefect team have made a real difference in the school community. I hope I still have opportunities to speak with students across the school between now and the end of the year. But soon it will be time for a new School Captain, who will have a list of their own, to continue to make this school the best place it can be.
There are lots of exciting projects that the school team will be embarking on over the next few years. House system revival and increase in school clubs to name a few. I'm glad I've been able to be a part of the journey. I hope you all have a fantastic Easter, and thank you for your support.

Thomas Blackmore
School Captain
Some words from our Heads of Years
Year 8 have focused on making sure they are prepared for their learning during the Spring term. Now that we have settled back into Borden routines, boys are regularly coming to school fully equipped with stationery, reading books, uniform cards and full school uniform - well done to everyone consistently ready for school on a Monday morning. We have covered a wide range of topics in form time, including the Philosophy of Pooh, Holocaust Memorial Day, World Sleep Day and International Women's Day. World Book Day was particularly well-celebrated by Year 8 with some incredibly imaginative costumes and excellent participation in the challenges set by Mrs. Hall. We are also proud of the efforts of one Year 8 student as he raises funds for the World Scout Jamboree he will attend next year. In our final celebration assembly, the winner of the Inter-form competition will be announced, with the prize of a non-uniform day on the last day of term at stake. Well done to everyone who has contributed Achievement points towards their form's total.
Mrs. Edwards Head of Year 8

This term, Year 10 have been discussing many social issues such as gender equality, Holocaust Memorial Day and celebrating World Book Day. Pupils should be thanked for their level of maturity in discussing such issues and displaying an ability to discuss alternative opinions with such maturity. Boys have also had an opportunity to explore a range of differing revision strategies from the use of flash cards to GCSE Pod video software in order to begin to prepare themselves for their GCSE mock exams at the end of April.
Mr Weller Head of Year 10
Year 11 had an important term with preparations for their GCSE exams well underway. The year group completed their final set of mock exams this term, with many boys working incredibly hard to produce some impressive performances. Along with the mock exams, students have continued to revise, with the library regularly used at lunchtimes and after school to complete extra study. In form time we have explored new study skills and improved upon revision techniques. The boys will be working hard, attending revision sessions and continuing their preparations over the Easter holidays as well as having a well earned rest.
Mr Finch Head of Year 11
Year 13 have had a busy term making much progress in their subjects towards this summer's final A-Level exams. They have sat exams in certain subjects already with many students attaining some encouraging results that will form part of their overall grades in IT and Financial Services. There has been much discussion of the advanced exam board materials in lessons and students have been revising hard and completing mock examinations to help practice and improve their exam techniques. The 1st Eleven football team managed to reach the semi-final of the Kent Cup, recording some excellent victories on an impressive cup run. Eventually they lost to Harvey Grammar School in a nail-biting semi-final. There were some top Year 13 performances over the season from Alex Musk, Max Lissenden, Femi Kuku, Dylan Mepstead, Tommy Sanderson, Josh Decarte and Lee Burnett. The Senior and prefect team have continued their excellent work around the school in forms and mentoring work with younger members of the school community. They have managed this alongside helping to organise and run events like the Tonga Tsunami Appeal and Easter fund raiser for Ukrainian refugees. I would like to thank Thomas Blackmore, Gabriella Deevoy, Temi Olayinka and Luca Ascheri and the prefect team for all their efforts over the year. They have all certainly contributed in an extremely positive way to the values we hold dear at Borden Grammar School. I would like to take this opportunity to wish the whole of Year 13 luck with their upcoming exams and my best wishes for their future endeavours.
Mr Whiting Head of Year 13
Science Learning Takes Off
Science week glided into the learning for pupils at St George's Primary School, Rodmersham Primary and Borden's Science Club during science week as they all joined forces to explore the science of flight design.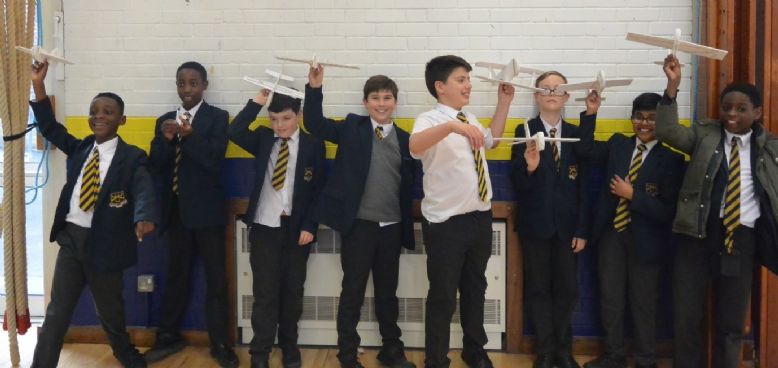 Year 7 pupils of Borden Grammar School's Science Club
Based on the RAF STEM Glider Challenge, the pupils became aircraft engineers and designers for the week. The pupils quickly became knowledgeable about aircraft and the forces associated with flight. After adapting their designs, the pupils then had a lot of fun testing their gliders across school halls and fields. Rodmersham and St Georges Primaries have sent messages of thanks to Borden for providing the resources and activities for the glider challenge. Other primary schools are planning to use the glider challenge with their pupils in term 5.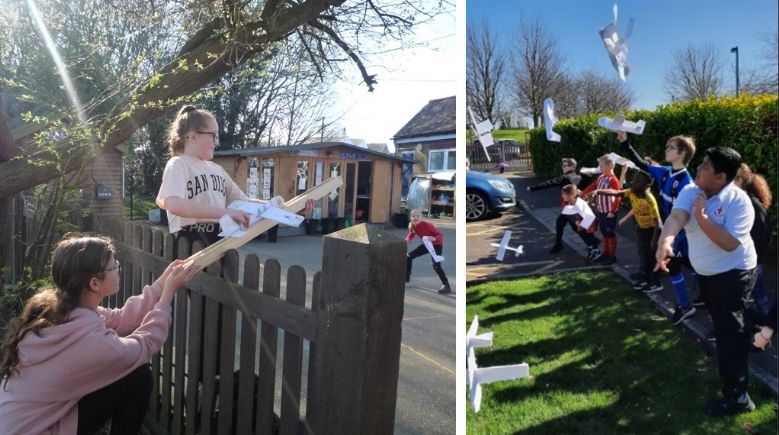 Pupils from Rodmersham and St Georges Primary Schools
Thanks to Mr Dyson (St Georges Primary Sheerness); Mrs Lodge (Rodmersham primary); Mrs Broad, Mrs Reid, Mr Ryan and Mr Phillips.

We are pleased to say that this story was also reported in the Sittingbourne News.
Dr Stone Head of Science
Sports Department News
This term PE lessons and extracurricular sports have focused on hockey and rugby in particular with a noticeable increase in the participation of pupils within clubs and fixtures. Attendance to the Year 7 and 8 hockey club, in partnership with Sittingbourne Hockey Club has been fantastic, enabling regular fixtures for Years 7-10 to take place this term. Teams have had a mixture of wins and losses against schools such as Norton Knatchbull, Harvey Grammar and Gravesend Grammar with the development of all pupils within the sport a huge positive to see. We look forward to continuing this progression next year. Within rugby, attendance to clubs for all years has been fantastic. Year 10 had a whole term of differentiated rugby groups within their core PE lessons and boys in Years 7, 8 and 9 all worked extremely hard within their Key stage 3 rugby lessons. Teams were also entered in to the Swale Schools rugby championships held at Sittingbourne Rugby Club. Years 7, 8 and 10 battled brilliantly and showed some outstanding play with their tournaments, finishing in third place. Huge congratulations to the Year 9 team who put in some superb performances to be crowned Swale Schools Rugby Champions 2022, a fantastic achievement.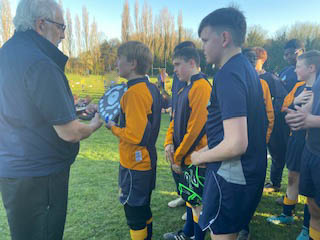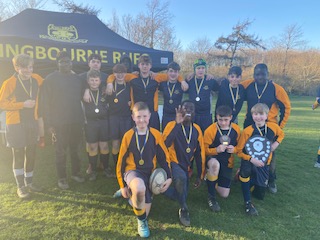 Within football, there was double Kent cup semi-final heartache for the 1st XI and Year 10 team who were knocked out by Harvey Grammar and Maidstone Grammar respectively. Boys should be congratulated for their outstanding performances throughout each competition and the way they positively represented the school. Next term, attention switches to the summer sports of cricket and Athletics. There will be a weekly soft ball cricket club for Years 7-10, with support from a qualified Swale cricket coach. The club is open to pupils of all experience levels and abilities, and will focus on a variety of skill development sessions prior to competitive, hard ball games being arranged within term 6.
Kent Schools' Cricket Association Grant
We are very grateful to have received a £500 grant from the KSCA Tony Church Legacy which will allow us to improve our cricket access and purchase extra equipment.
Please stay tuned for more information from the PE department.
Mr Weller Head of PE
We are pleased to report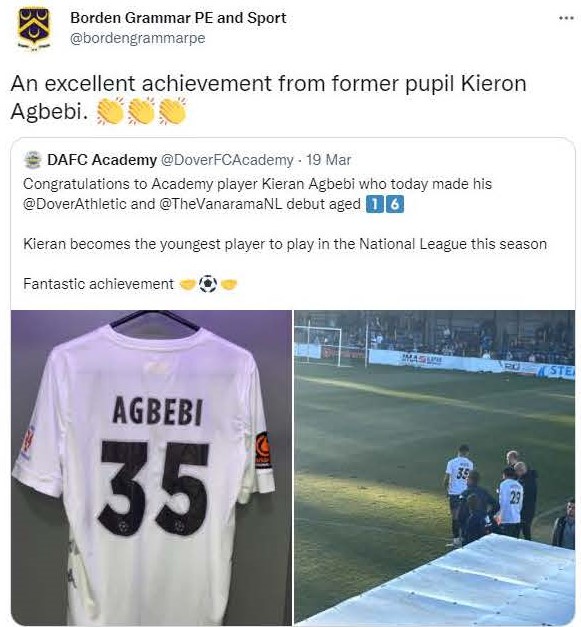 Gardening Club update
With the ground and temperatures starting to warm up, the club has been slowly moving from indoors to out. We have been sowing seeds indoors, increasing the range of our indoor jungle and just started a composting process outdoors which will come in handy for next year's growth.
We are now in the process of landscaping our garden's grounds for planting in terms 5 or 6, with plans afoot for an ornamental tree feature, three display beds (Cottage, Japanese and Jungle themed) and fruit and vegetable plots, all dependent on how much we can do given the time. If anyone from our community has any spare paving slabs, excess gravel, outdoor pots or gardening tools, we would always gratefully receive them to help build the space quickly. As always, if anyone has any plants that they are looking to move on as well, please do get in touch as we may be able to put them to good use.
We have also been successfully working towards our Level 3 RHS School Gardening award and have plans to continue to achieve in this area. The delivery of the Morrisons good to grow scheme items has helped us greatly expand. Thanks to all those that helped in collecting points, I hope it will run again next year as we have received some lovely items!
All in all, the garden and our participation continues to grow, and we look forward to the space developing greatly in the next two terms.
Mr Swaffer - JSwaffer@bordengrammar.kent.sch.uk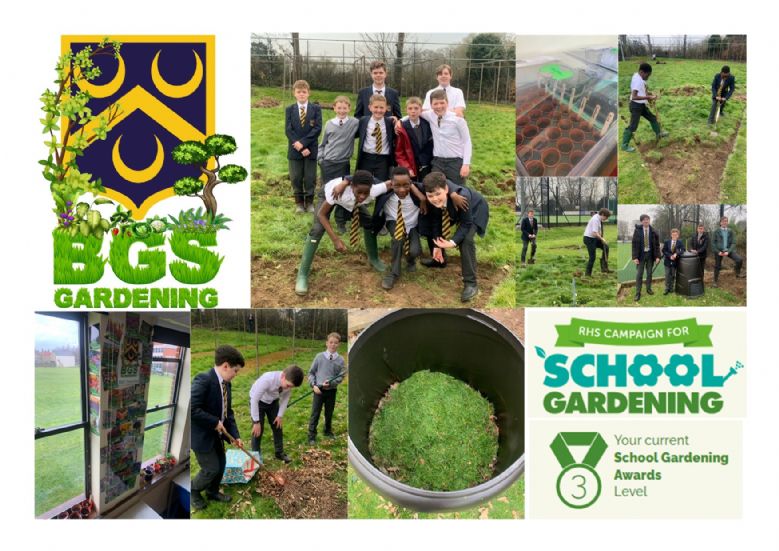 Peer Mentoring
We were delighted to have trained 24 students from Year 12, in December, to become Peer Mentors to work across all age groups, supporting students with a range of issues. Since returning in January, we now have 19 students being supported by a 6th form peer mentor and have seen significant successes for those being mentored. This is a fantastic example of the work going on at Borden to support students with their mental and emotional health needs and to foster strong relationships across our school community. Plans are also being formalised to bring the companyYouth Resilience into Borden to further develop projects around mental health and emotional resilience and provide targeted support to small cohorts of students.
Mrs Brooker Designated Safeguarding Lead
Religious Studies News
The Religious Studies Department was successfully awarded a grant for approximately £500 from 'The Jerusalem Trust' (part of the 'Sainsbury's family' – the weekly shop has helped to provide learning resources!) This money was used to buy over sixty 'Holy Bibles' to help teach the Christian faith. They have been in lessons already, and it has been wonderful to see students using them in class. The font, called Zondervan, is specially designed to make it easier to read. In addition, students loved the soft leather feel and the embossed cover.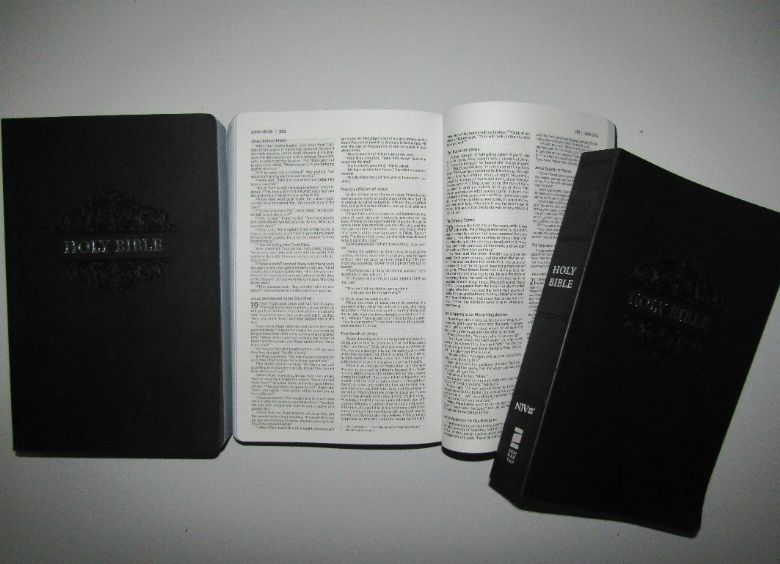 The department was also proud to support 'International Women's Day' on March 8th. All students at Key Stage 3 and all GCSE RS students had homework based on trailblazing women in religion.
Year 7
Year 7 have been looking at Christianity for the past two terms. The have looked at how the birth of Jesus was prophesied in the Old Testament, how Jesus served others through his ministry and the significance of his death and resurrection.
As part of their learning, they spent some time exploring the events of 'The Last Supper', and after looking at Leonard Da Vinci's famous painting, students were asked to create a traditional or modern interpretation. Here are two that really stood out from Sean K and Jack J.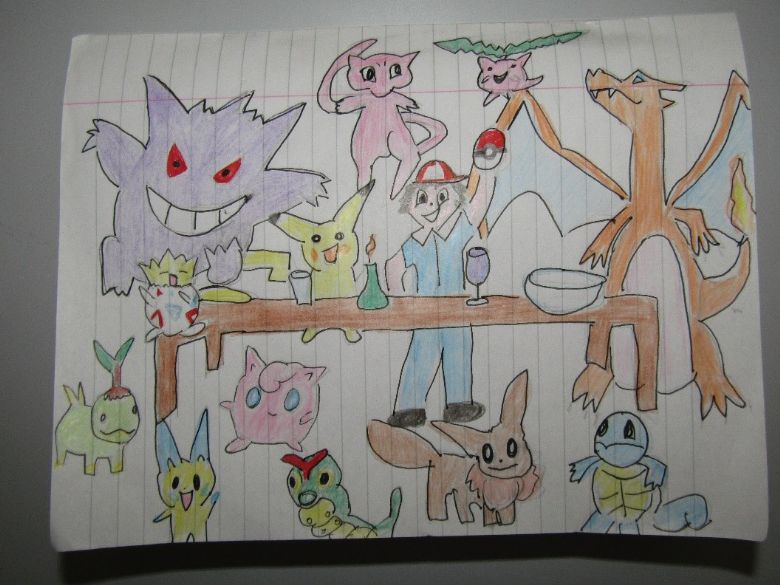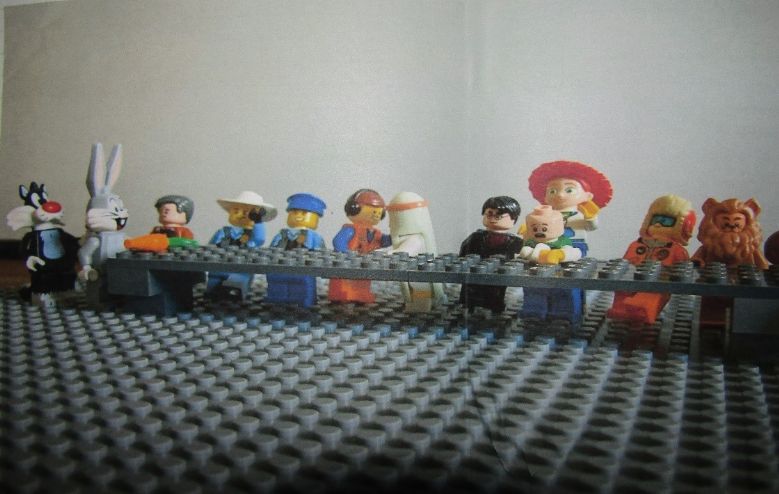 Year 8
A core part of Year 8's work has been looking at denominations within Christianity, and trying to understand how and why these branches of the faith developed. They have also too looked at rites of passage, unusual stories in the Bible and how to become a nun! They were also asked to make a badge to reflect a 'united church'. This is known as 'ecumenicism' when the churches work together. One great example was from Robert D.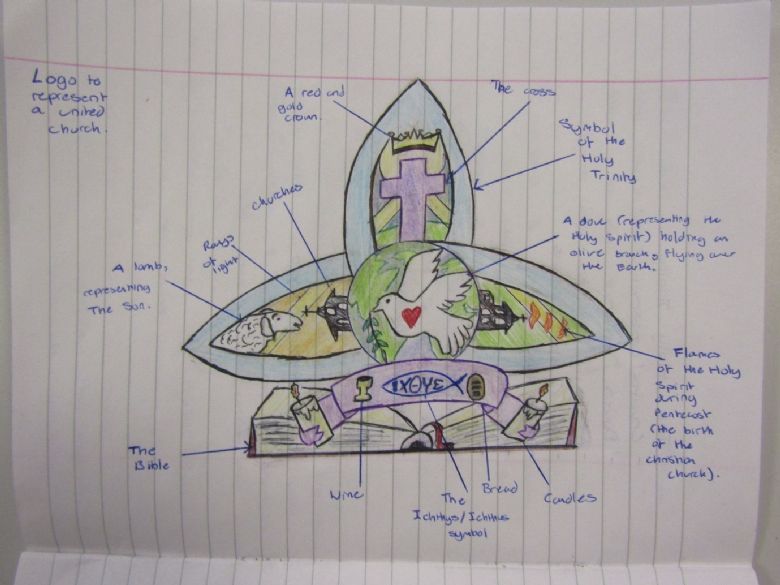 Year 9
Year 9 have been exploring Islam; beginning with Muhammad (pbuh) and then leading into the Five Pillars of Islam, rites of passage and Islamic art. Next term we are looking to create a display of their own Islamic inspired art outside the RS rooms in the S Block.
GCSE
To put it bluntly, it is now exam season for both Year 10 & 11. Year 10 have been practising their exam skills in both the Christian and Islam components of the course; all this is building towards their mocks early in Term 5. Year 11 have just completed the second set of mocks, and of course in Term 5 they will be sitting their external exams on the 16th and 28th of May. We wish both groups well.
From myself, Mrs Mahoney and Mr Gilham we wish all our students and their families a very restful holiday. There are so many festivals at this time; Ramadan, Vaisakhi, Passover and Easter to name but a few. Whatever you do, we wish you a happy and peaceful time.
Mr Sherwood-Farnfield Lead teacher for RS
Sporting achievements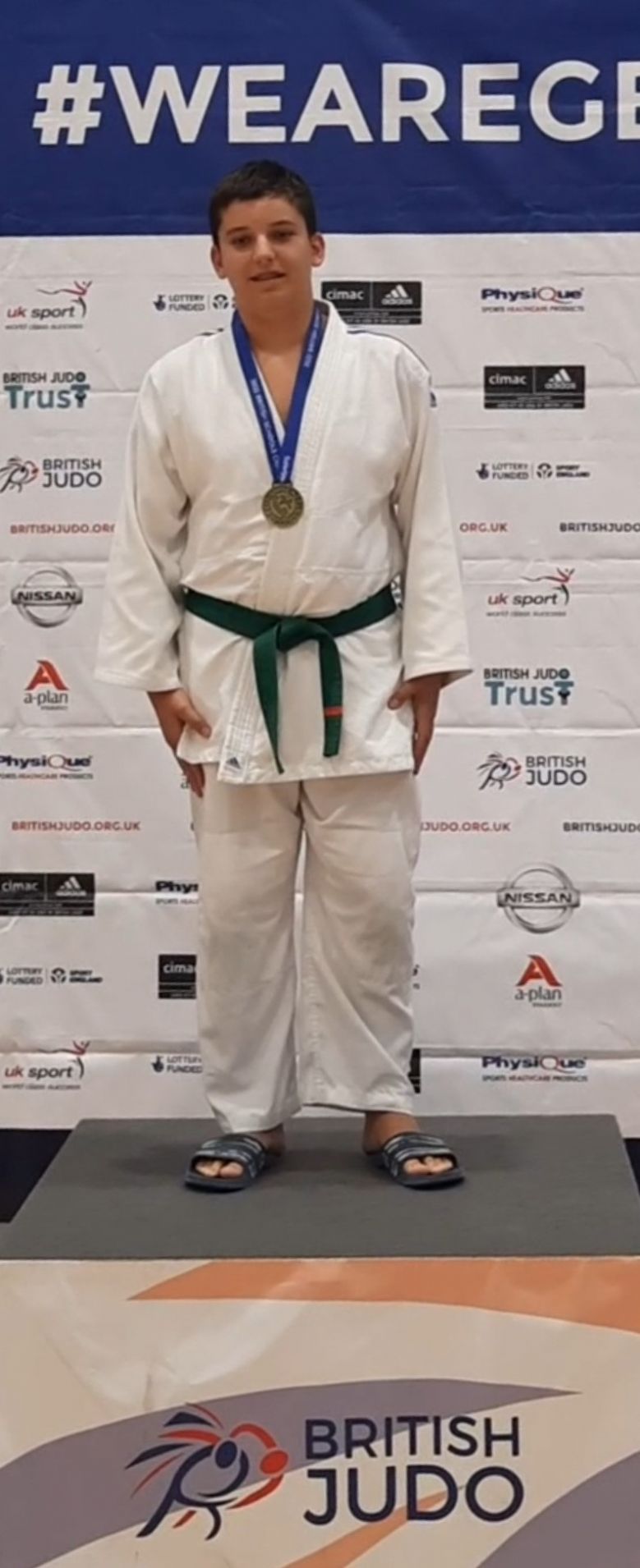 Judo
Well done to our Year 7 student Boyan Todorov who took part in the British Schools Judo Championships on the 13th of March at the English Institute of Sport Sheffield.
He successfully won a Gold medal and became British Judo Champion of the Year Group 6/7, over 73 kg!

Hockey
Lewis Helene from Year 9 played his first under 14s hockey matches for Kent in March brilliantly. They lost 1-0 to Hampshire but the score didn't reflect the game and they won 6-0 against Buckinghamshire. Lewis' Mum said "It is such an honour for him to represent the county".
An excellent example of creative writing in Year 7 English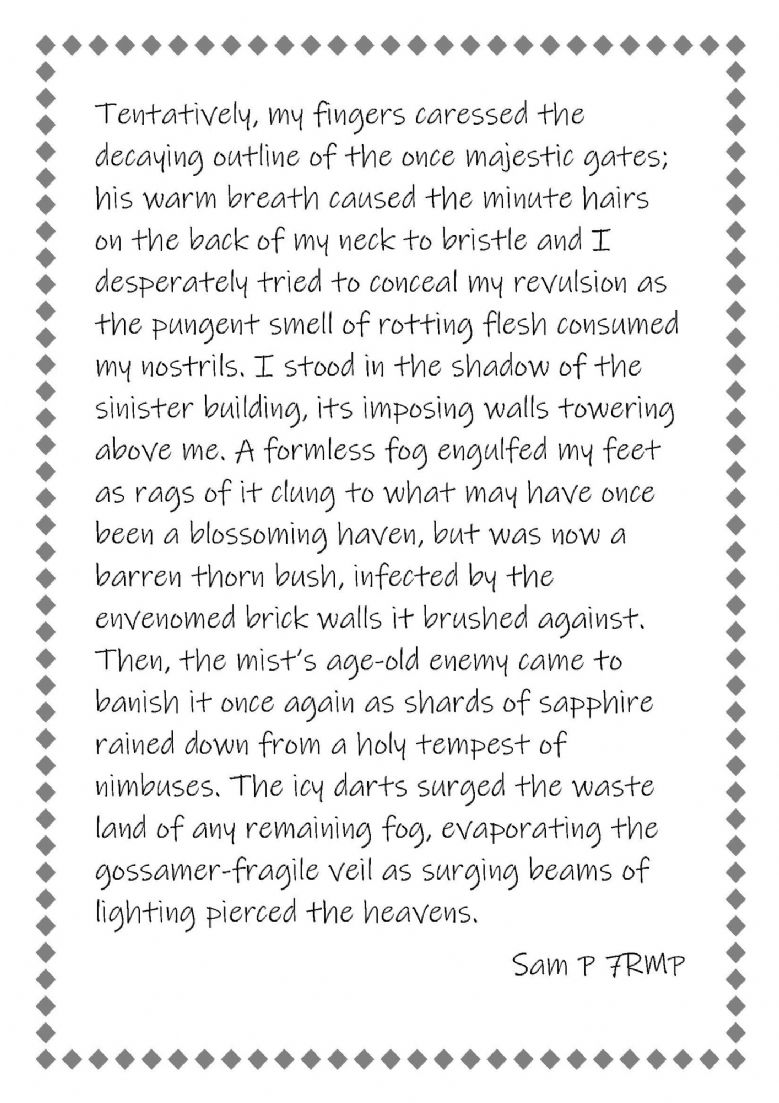 Mrs Das English teacher
In the press

Extra Curricular Clubs
Every day: Homework club 3.15 - 4.15pm (library)
MONDAY:
Y7 & Y8 Drama club, 3.15 - 4.15 (Drama Room, Miss Phillips & Mr Hernandez)
Y7 & Y8 Hockey Club, 3.15 - 4.15 (External coach in)
TUESDAY:
Orchestra, 3.15 - 4.15 (Miss Phillips, Drama room)
Y7 Science club, 3.15 - 4.15 (Lab 4 with Mrs Reid)
Y9, Y10 & Y11 Rugby club, 3.15 - 4.15
All Years Chess Club, 3.15 - 4.15 (Mr Chittenden, room S12)
WEDNESDAY:
Band Practice, 12.00 - 12.30, (Miss Phillips, Music Room)
Choir, 3.15 - 4.15 (Miss Phillips, Music Room)
Warhammer Club, 3.15/4.15 (Mr Phillips in Lab 3)
Gardening Club, 3.15 - 4.15, (Mr Swaffer, Room S4)
All Years Latin club, 3.15 - 4.15 (Mr Holley, Room 9)
THURSDAY:
Y7 & Y8 Rugby club, 3.15 - 4.15
Y9, Y10 & Y11 Hockey Club, 3.15 - 4.15
Y9 - Y11 Drama club, 3.15 - 4.15 (Miss Phillips / Mr Hernandez, Drama room)
Y12 & Y13 Debating Club, 3.15 - 4.00 (Tom Blackmore, Hall)
FRIDAY:
Senior Music Jam, 3.15 - 4.15 (Miss Phillips, Music room)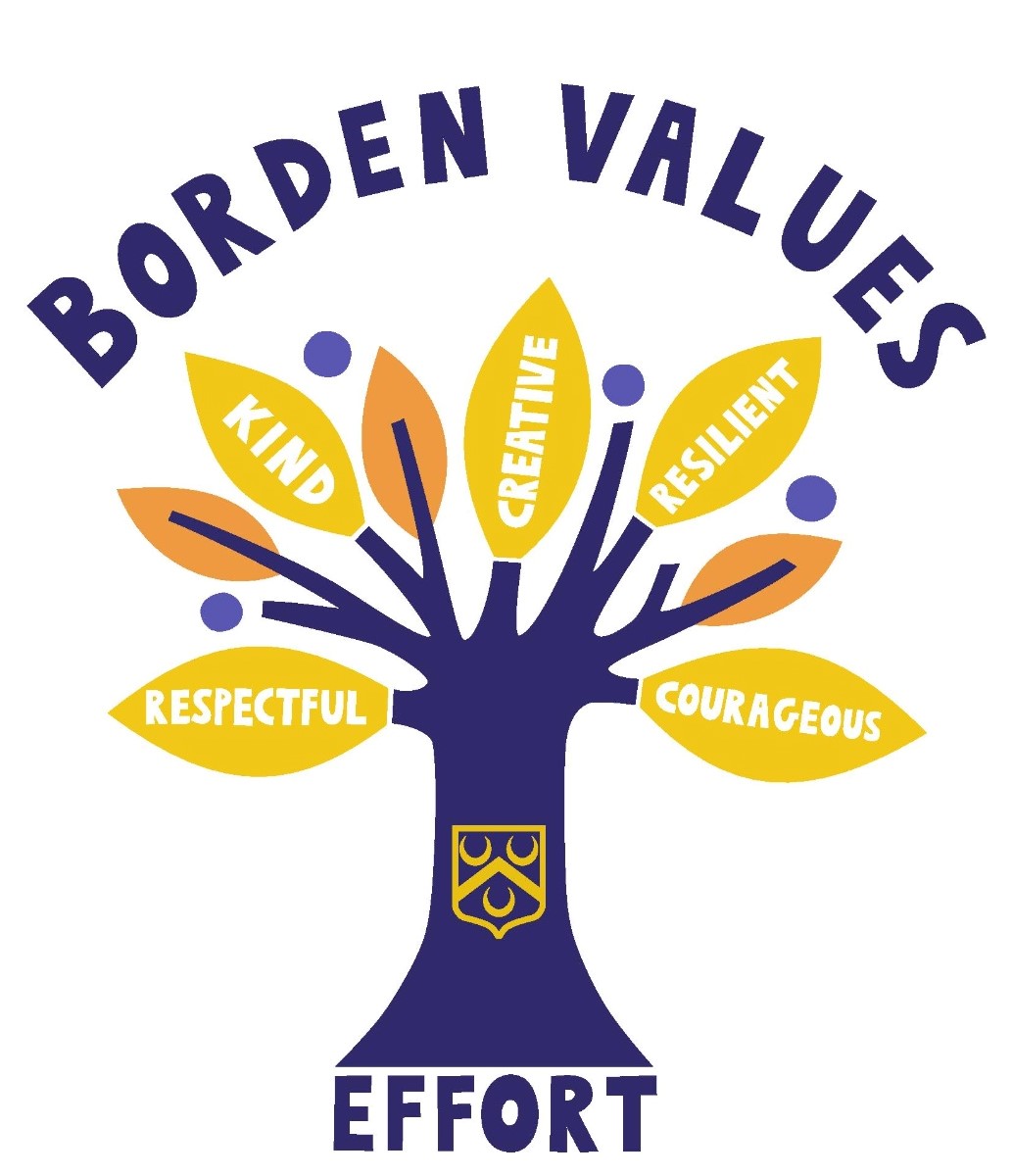 31 Mar 2022

We are very proud of Year 8 student Nicholas Nowak who organised a cake sale to help raise funds for the Ukraine appeal. With other students from his form, they organised donations of cakes to be brought in, many of which were home baked. They went on to sell the cakes at break times...
30 Mar 2022

Well done to the Prefect team for organising a school wide Easter egg raffle. Over £200 was raised, with all the proceeds going to the Ukraine appeal. Thank you to all those people who donated eggs or purchased tickets for this very worthy cause. Winners have been notified and...
18 Mar 2022

We are pleased to report that our non-uniform day has already raised over £1000 so far today with many further donations still being received. Firstly, this was timed to support the national charity Comic Relief on Red Nose Day and secondly, we will split donations to suppo...
11 Mar 2022

Well done to everyone who has participated in the Holiday Reading Challenges; it's been lovely to hear what you thought about the selected books. Congratulations to Lucien W for winning the prize for the best review of A Christmas Carol and Kyron J for winning the prize for the best re...
10 Mar 2022

Borden's Anti-bullying ambassadors present an Anti-bullying artwork competition with a prize voucher to be won, and your artwork printed and displayed around the school!
03 Mar 2022

This is how staff and students celebrated World Book Day today on their 25th birthday with an amazing amount of students taking part.
24 Feb 2022

Christian Gayle from Year 8 is one of four of the towns Scouts to be selected for the World Scout Jamboree (WSJ) in 2023. The WSJ is a World Organisation of the Scout Movement event, that happens every four years, in a different country.